Thinking about taking a trip this summer? Make sure to pack everything you need, including your CBD – check out our "Best Summertime CBD Options" for your CBD packing list. While there was some confusion about traveling with products containing this non-psychoactive compound last month, it has since been resolved with an update from the Transportation Security Administration (TSA). Keep reading to learn the procedures for flying with CBD Oil and how to make the most of your vacation with this premium product.
What Can I Take In My Luggage?
The TSA released a statement clarifying their policy about medical Marijuana. Essentially, products under compliance with the Agriculture Improvement Act of 2018, or the 2018 Farm Bill, are accepted through security checkpoints. The bill federally legalized Hemp and its derivatives containing less than 0.3 percent THC – this includes Hemp Bombs CBD products.
Marijuana and certain cannabis infused products, including some Cannabidiol (CBD) oil, remain illegal under federal law except for products that contain no more than 0.3 percent THC on a dry weight basis or that are approved by FDA. (See the Agriculture Improvement Act of 2018, Pub. L. 115-334.)  TSA officers are required to report any suspected violations of law to local, state or federal authorities.

TSA Medical Marijuana Policy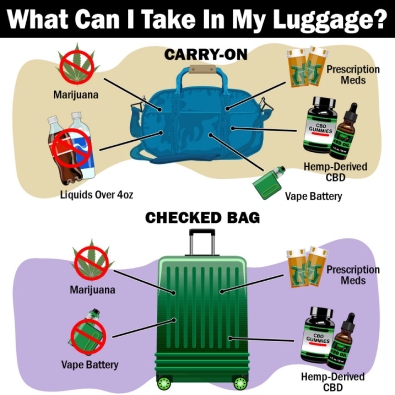 Be aware that marijuana and cannabis-infused items are still highly illegal in many states and may result in arrest if found during screening.
TSA's screening procedures are focused on security and are designed to detect potential threats to aviation and passengers. Accordingly, TSA security officers do not search for marijuana or other illegal drugs, but if any illegal substance is discovered during security screening, TSA will refer the matter to a law enforcement officer.


The final decision rests with the TSA officer on whether an item is allowed through the checkpoint.


TSA Medical Marijuana Policy
Flying with CBD Oil in Your Carry-On
Even though your CBD products can make it through the checkpoint, your glass, metal containers and liquids are still prohibited. Before you board, make sure your Gummies with CBD, CBD Oil or other CBD products are in TSA-approved packaging and have your prescription or authorization if necessary. If you're questioning it, then you may be better off taking a serving before you board and putting the rest in your checked bag.
Why Is It a Big Deal Now?
Until recently, there hadn't been much conversation about flying with CBD Oil, so why is there so much commotion now?
New Medications
You can and should fly with all necessary medications. For some, this medication includes the FDA-approved drug Epidiolex. Epidiolex is the first approved medical marijuana, CBD-based drug and is used to relieve specific types of seizures. The approval of this drug contributed to the policy change from the TSA.
Controversial Incidents
Additionally, an incident in May 2019 spurred the need for clearer policies and regulations. A 71-year-old woman was arrested at Dallas Fort Worth International Airport due to having CBD Oil in her carry-on. She spent two nights in jail and was released when the Tarrant County grand jury chose not to advance her case.
A similar incident occurred in mid-April at Disney World where a 69-year-old woman was arrested and detained for trying to enter the park with physician-prescribed CBD Oil.
As these situations continue, there will be an increased need for transparency, regulation and intervention. If you ever feel iffy about flying with CBD Oil, the best option may be leaving it at home. Luckily, you can find Hemp Bombs products in many stores across the US and you will be able to stock up for the duration of your trip. Read more about how CBD may help ease flight anxiety during your summer vacation. Share this post to Facebook and Twitter to let your friends know about the TSA Policy Change so they can update their summer packing list.
Sources

Transportation Security Administration – Medical Marijuana

NBC News – TSA Changes Policy to Allow Some CBD Oil and Medications on Planes
You May Also Like: