CBD for Relaxation and Comfort

Find your zen with our most relaxing CBD products. Each product is specially crafted with a blend of soothing botanicals and a potent serving of CBD to encourage total relaxation of the body and mind. Enjoy our selection of premium CBD Gummies, Capsules and Max Chill Shots. We recommend taking CBD at the end of the day to unwind and relax.
HERE'S WHAT CUSTOMERS ARE SAYING ABOUT OUR PRODUCTS
---
I have used the gummies, the relaxation syrup, pain freeze, and capsules. I don't have a bad thing to say about any of it. I have chronic pain in my lower back from an inoperable condition and daily migraines. Hemp bombs have made be able to function better with a lot less pain. Highly recommend trying them if you haven't.

Ashlei Bradley
If you are having problems sleeping, I would suggest the CBD syrup. It is so awesome! It works fast and you get such a good peaceful rest and you don't feel groggy when u wake up!

Teresa Jenkins
I love the CBD gummies. I have found that they are the only gummies that really work for me to sleep. They have melatonin which means I'm asleep within 15 minutes after taking them and I feel so refreshed in the morning. Highly recommend them!

Gwen Stangee Wilson
Finding Complete Relaxation with CBD
---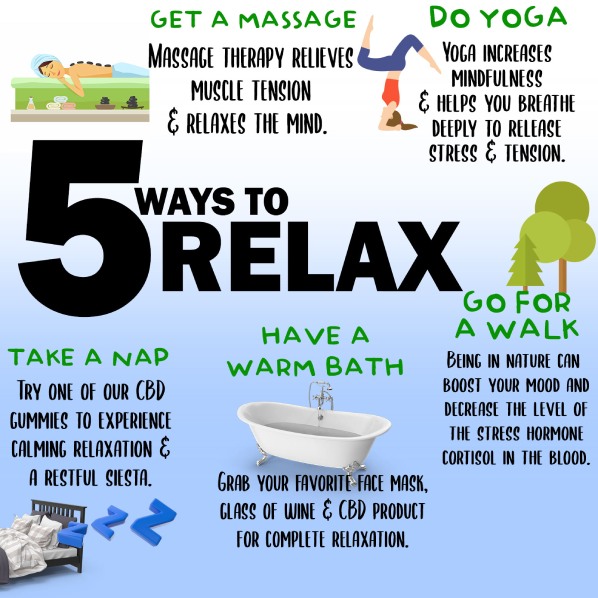 Get a massage
Massage therapy relieves muscle tension & relaxes the mind. CBD massage oil has the potential to promote additional calm and relaxation as an added bonus. Learn how to DIY your own massage oil on our blog.
Take a nap
There's nothing more restful and relaxing than a well-timed nap. Try one of our CBD gummies to experience calming relaxation & a restful siesta.
Have a warm bath
Not only can a bath soothe aching & tight muscles, but it also clears your mind. Grab your favorite face mask, glass of wine & CBD product for complete relaxation.
Practice yoga
Yoga increases mindfulness & helps you breathe deeply to release stress & tension. The meditation during your yoga practice can help you re-center your focus on the here-and-now to reduce stress.
Go for a walk
Being in nature can boost your mental clarity and decrease the level of the stress hormone cortisol in the blood.
---
Check out our CBD Oil, CBD Gummies and wide selection of other premium CBD products, and be sure to share these tips for relaxation with a friend so they can feel great and relax now. Click here for more information: What do CBD Gummies do?