If you're a college student looking to manage the stress of expanding responsibilities, you may be wondering if CBD Gummies can help – and you're not alone in this quest. Growing up is stressful and moving away from your family to an unfamiliar campus flooded with people isn't always the most soothing solution.
Inevitably, college students experience high levels of stress due to exams, social anxiety, societal expectations and more. A 2018 survey from the American College Health Association – National College Health Assessment found that of the 88,000 students surveyed, 91 percent of them experienced average to tremendous levels of stress during the year.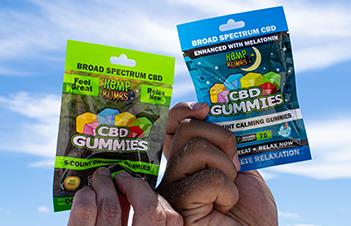 A little stress never hurt anyone, right? Wrong – 33 percent of those subjects admitted that stress affected their performance in school.
With the high student-to-counselor ratios, students rarely receive the counseling they need to alleviate this stress. Instead, many students turn to other outlets like partying and overeating to de-stress. These coping mechanisms are unhealthy and typically make the problem worse.
Fortunately, more companies are creating natural health products to give college students an alternative to negative coping mechanisms. CBD, or Cannabidiol, is a natural compound found in hemp plants known for its many beneficial properties. The calming characteristics of CBD products are helping people of all ages achieve healthier and happier lifestyles.
What are stress gummies?
So, what are CBD Gummies? Hemp Bombs stress gummies are CBD-infused gummies with 15mg of premium CBD and a blend of soothing ingredients like melatonin and passiflora to help you unwind and de-stress.
These CBD edibles combine the delicious taste of traditional gummies with the lifestyle benefits of CBD. Not only do they calm you, but they can also help you feel more well-rested, which is especially helpful for 8 a.m. lectures.
Benefits of CBD-Infused gummies for stressed-out college students
When taking CBD-infused Gummies, you may experience a number of CBD benefits that improve your overall well-being and academic performance:
Increased focus
Complete relaxation
Stress relief
Anxiety relief
Better sleep
When should I take CBD Gummies?
Easy – take CBD for stress whenever you feel you need it.
More specifically, you can take stress gummies daily for general calmness. Taking one of our CBD Sour Gummies in the morning may reduce any baseline anxiety that you feel when starting your day.
If you experience situational anxiety when it comes to exams, large crowds, riding the bus, etc., taking one or two stress gummies 30 minutes before the event may make you more comfortable.
Whether you're a stressed-out college student or a concerned parent looking out for your anxious student, stress gummies may provide some comfort. However, you should also look into other outlets for stress like journaling and support groups.
We understand that all the different CBD companies flooding the market make it hard to choose the best option. At Hemp Bombs, we strive to educate consumers about all aspects of the CBD industry – the good, the bad and the in-between – so you feel empowered to make the right purchasing decisions. We hope that our complete transparency about our own sourcing, manufacturing and lab testing practices helps you feel confident when taking our CBD Oil and other premium products, or sending them to your student. Click here for more information: Award-winning CBD Gummies done right.
Hemp Bombs CBD-infused Gummies are intended for adults 18 and over.