What is CBD?

If you're wondering, 'What is CBD?' then read on to learn more. Cannabidiol, more commonly known as CBD, is one of the many cannabinoids found within Cannabis plants (Hemp and Marijuana). Cannabinoids are unique chemical compounds that act on cannabinoid receptors in humans and mammals called the Endocannabinoid System (ECS).
CBD has become a prominent cannabinoid because it is non-psychoactive and it has even been patented due to a number of beneficial properties. These properties give CBD the potential to help promote calm and relaxation, as well as a number of other health and wellness perks. You can safely consume or use reliable CBD products like CBD Gummies and CBD Oil without the worry of them disrupting your brain function or causing you to feel "high."
Is CBD Legal?
Yes, CBD is legal to purchase and sell throughout the U.S under the 2018 Farm Bill, as long as the CBD is derived from Industrial Hemp and contains less than 0.3 percent THC (the cannabinoid responsible for causing a "high"). Make sure to research your prospective CBD brand to ensure they follow these guidelines and are transparent about their products' contents, cannabinoid composition and lab testing standards.
Always stay informed and check back here for updates, as the CBD industry is still novel and everchanging.
Why Does CBD Have the Potential to Help Me?
As mentioned earlier, CBD and other cannabinoids have a direct relationship with cannabinoid receptors found in humans and other mammals. This collection of cannabinoid receptors is known as the Endocannabinoid System (ECS). The ECS is a biological process responsible for regulating your pain, inflammation, stress, appetite, mental clarity, memory, immune health and much more.
The Endocannabinoid System is made up of:
Cannabinoid receptors known as CB1 and CB2
Endocannabinoids naturally produced within the human body
Enzymes that create and breakdown cannabinoids
CB1 and CB2 receptors situate themselves in the brain and throughout the nervous system. When the ECS functions properly, it naturally produces endocannabinoids. Endocannabinoids bind to the receptors' sites, allowing your body to send and receive signals that help maintain its natural processes. When your body does not produce enough endocannabinoids, however, it can lead to chemical imbalances leaving you more susceptible to mental and physical deficiencies.
Introducing CBD into your body has the potential to encourage your Endocannabinoid System to work properly. CBD potentially influences the ECS to use its endocannabinoids efficiently so that it may help reduce your stress and improve relaxation and recovery.
How Do I Take CBD?
CBD can be taken in several different forms, allowing individuals to find the method that suits them the best. It all depends on the person's preference and body composition.
CBD Tinctures contain premium CBD Oil designed to be taken sublingually, or under the tongue. Tincture drops can be taken orally or dispersed among food and beverages.
From Gummies to Lollipops, CBD Edibles are a delicious way to attain your daily CBD needs. Eat, digest and feel the effects within a few hours. For specific information about CBD Gummies, click here: What do CBD Gummies do?
CBD Capsules can be swallowed like traditional pills to deliver their beneficial properties. Easily digestible, Capsules are great for long-lasting relief.
Vaping
Vaping CBD may be the fastest way to experience CBD's therapeutic potential. CBD enters the bloodstream much vaster via inhalation compared to other methods.
Topicals
Topical CBD products allow you to specifically target your area of pain or soreness. CBD topicals can be applied via rubs, gels and patches.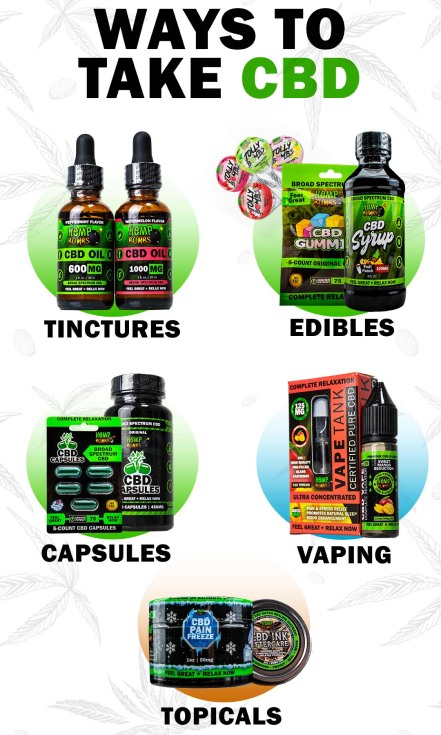 Why Hemp Bombs?
As a CBD industry leader, Hemp Bombs takes great pride in educating prospective and daily CBD users.  It is our goal to provide the most diverse product line of quality CBD products while also being transparent in how we do it. We want to provide highly beneficial CBD products to our consumers.
You can find all of our product's third-party lab tests available online. Soon each product will have a scannable QR Code that will take you to the product's specific batch. Consistency is everything to us and we ensure this through our premium sourcing methods, high-quality ingredients and superior in-house manufacturing practices.