With the lack of regulation within the CBD industry, companies are popping up out of the woodwork peddling low quality "snake oil" – but you might not know the difference. Not only does CBD lab testing keep companies honest and guarantee that you're getting the correct amount of CBD, but it also protects you from harmful chemicals and additives. At Hemp Bombs, we maintain the quality of our Gummies with CBD, CBD Oil, CBD Capsules and other premium CBD products through consistent manufacturing and lab testing processes.
Our CBD Lab Testing Process
Raw material pre-check
Before our manufacturing process even begins, we receive lab tested raw materials from American farmers. Each batch of raw CBD comes with a certificate of analysis to identify present cannabinoids and verify that our products are free of pesticides, heavy metals and residuals.
Production checkpoints
Throughout production, we test our products at certain checkpoints to confirm that the correct amount of each ingredient is going into the mix. By following these guidelines, we can catch any errors early and determine whether we need to recalibrate our machines or revisit our Standard Operating Procedures – although this is rarely the case.
Final Internal check
When all is said and done, we do one last test of our products to verify the CBD concentrations and ensure you're getting the best product possible.
BUT WAIT, THERE'S MORE!
We send each batch of products off to independent third-party labs for CBD lab testing. It's not enough for us to just do our own testing – and you shouldn't trust any company that does. Lately, companies have been selling products without the correct amount of CBD, while publishing lab test results that reflect falsified answers, giving consumers a false sense of trust.
Independent CBD lab testing keeps everyone honest and shows the true, unbiased contents of every product.
Results anytime, anywhere.
Don't blindly trust a company's claims that a product has the correct amount of CBD – do your research. Reputable companies, like Hemp Bombs, will make lab test reports readily available to you. Our results are available on individual product pages as well as the designated lab test area of our website.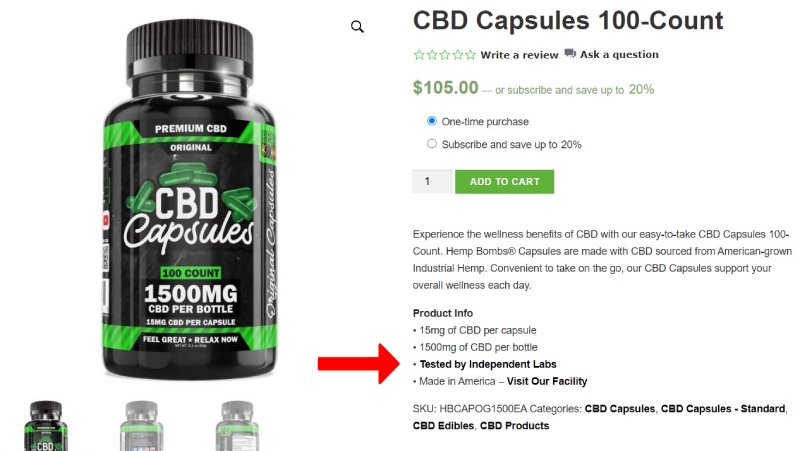 Click on the picture to visit the product page and locate lab test results
We want to establish trust through transparency with our customers. We're always available to answer your questions on our social media channels and through our customer service number. Next time you're looking to buy CBD online make sure the company has consistent, accredited lab test results available to you. We'll always bring you up-to-date and reliable answers to keep you safe.
Connect with us on social media to receive product updates and learn more about the Hemp Bombs way.