In the last few years, CBD has gained popularity and legitimacy for both consumers and suppliers in the United States. For consumers, the reported benefits of anxiety relief, help getting a more restful night of sleep and the promotion of a sense of calm and relaxation have seen demand grow tremendously. CBD is also much more "mainstream" for consumers than it used to be, due to growing popular support and further medical research. By extension, suppliers have moved in to meet customer demand and see the profits of this emerging industry. The good news is, the Cannabidiol (CBD) shows no signs of slowing down. Here are the reasons Hemp Bombs believes the future of CBD to be nothing but promising.
Growing Market
Forbes published an article at the end of 2016 projecting CBD to become a $2.1 billion dollar market by 2020. That represents a 700% increase from 2016 in just four years.
This graphic, provided by Hemp Business Journal, shows the outlook of U.S. Hemp-based products sales through 2020. While the CBD market only occupies as a slice of total Hemp product sales, it's clear that it is a healthy market to invest in.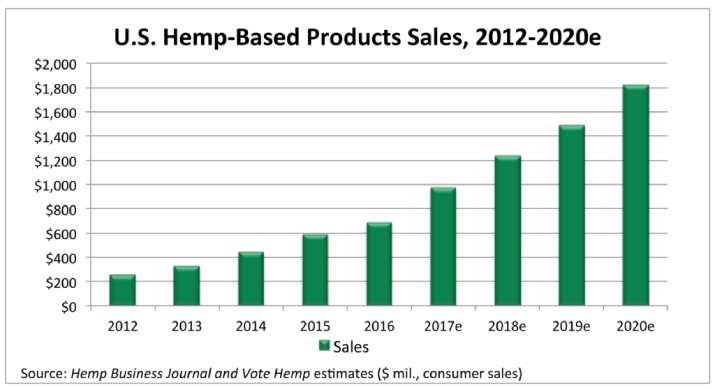 This graphic provides an even more compelling forecast for CBD products. In this graph, the projections are shown for CBD consumables in Natural and Speciality Retail Channels, including businesses like smoke shops. What you can see is that there is an even more aggressive growth in Hemp CBD products than the Hemp Industry itself. Hemp Bombs offers CBD-only products at affordable prices. Hemp Bombs is comfortably positioned for anticipated market growth.
Crossover
While Hemp Bombs is adamant that CBD is non psychoactive and contains less than 0.3% THC, there's evidence that there will be a crossover to the Cannabidiol market from traditional Cannabis users.
Outcome, a large cultivator in California, reported that 38% of users and non-users said they would like to know more about CBD Oil . CBD is a product that appeals to different market segments, and its widespread appeal means good things about its business potential.
Legal Status
Keep in mind, it was only 5 years that Colorado and Washington legalized recreational Marijuana use, and it was only in 2013 that CBD started demanding national attention. Cannabis is the fastest-growing United States industry, and is poised to keep its trajectory. See also that cannabis will create more jobs than manufacturing by 2020. All that is to say, cannabis is a powerful economic driver with massive support across the United States. In the last few years, much progress has been made for CBD, Medical, and recreational cannabis. From a business standpoint, the push for legalization means a growing audience for years to come.
The expanding legal status of all Cannabis products will also lead to further examination about Cannabidiol. Fewer restraints means greater opportunities for funding and research than is available right now. Consumers and businesses will benefit from greater knowledge of these products.
Public Approval
There is no doubt that the movement toward legalization reflects the swing of public approval throughout the United States. In Hemp Bombs home state of Florida, it was just two years ago that Medical Marijuana came up short on the ballot. But in one of the most convincing votes to date, Florida approved the use of Medical Marijuana by a landslide. In the span of just two years, tens of thousands have people have changed their views.

This Gallup Poll shows the upward trend of Americans who approve of recreational Cannabis use. Americans have never supported the legalization of Cannabis more than they do right now, a trend that is likely to continue. The push for legalization and growing social approval go hand in hand. For business, this means more demand. At a legal level, there will be less pushback for all Cannabis products. Socially, the stigmas around Cannabis use will fall away and more and more people will be open to Cannabis products. The country is perfectly primed for a consumer Cannabis craze.
Become a Hemp Bombs Distributor
As well as having an online store to buy directly from, Hemp Bombs has strong relationships with distributors throughout the country. There has never been a better time to invest in CBD than right now. As with recreational and Medical Marijuana, CBD Gummies, CBD Oil and other premium products are growing in demand and show indications of a profitable future. If you are an individual or business that would like to take advantage of the fastest-growing American industry, submit your information on our Distributors page today.