Distributors all across the United States trust Hemp Bombs to provide premium CBD products in a high-demand industry. If you're considering partnering with Hemp Bombs as a distributor, we want you to feel completely confident in our products and their ability to sell quickly. That's why we developed our signature free CBD Starter Kit for new distributors. While our products typically fly off the shelves, our CBD Starter Kit allows you to test your market without any risk or regret. It includes an array of our signature CBD products that total a value of $85. This deal truly has no strings attached. We offer our CBD Starter Kit as a courtesy for your interest and a complementary free trial with our brand. Here's what's included in our free CBD Starter Kit: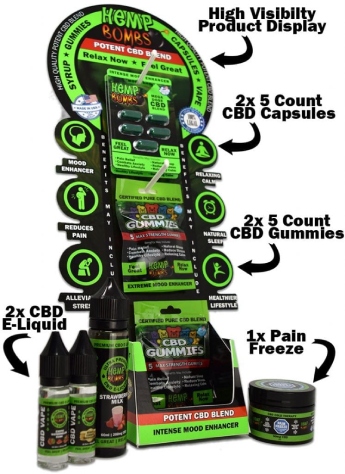 High Visibility Product Display – Featuring Hemp Bombs' vibrant green and black colors, our eye-catching product display commands attention in virtually any storefront. The display lists some of the many potential benefits of CBD extract while making the products pop.
2x Five-Count CBD Gummies – CBD gummies are a Hemp Bombs best seller. These chewy, fruity snacks are infused with a potent serving of our premium CBD extract, and they are perfect for on-the-go use.
2x Five-Count Capsules – Our fully-digestible capsules are each filled with a strong 15mg serving of premium CBD extract.  The capsule form allows CBD to slowly and gently absorb into body for soothing and long-lasting results.
1 Pain Freeze – Designed to help target aches, cramps and inflammation, Hemp Bombs CBD Pain Freeze is a topical solution for fast relief. We blend our signature CBD extract with other botanicals for a cool and soothing experience.
Marketing Materials – We provide you with the print materials needed to successfully promote our products, including our Hemp Bombs stickers. Additional marketing materials are also available for our distributors.
Our free CBD starter kit is only an introduction to the many benefits we offer to our distributors. We also offer free shipping and a satisfaction guarantee. At Hemp Bombs, we proudly manufacture all products in-house. This allows us to meet your needs in a timely fashion and maintain a full inventory of our signature products. Our pricing model for distributors is designed to deliver high profit margins.
The CBD industry is growing rapidly, and we're proud to develop some of the most premium and potent CBD products available. We're always happy to begin partnerships with new distributors.  If you're interested in obtaining a free Hemp Bombs CBD Starter Kit, contact our sales team.
To learn more about what sets Hemp Bombs CBD Gummies, CBD Oil and other premium CBD products apart, read this article.
For more information on the benefits of partnering with Hemp Bombs, click here.