These days, you can find everything you need on Amazon, from new movie releases and electronics to the latest fashions – and even Hemp-derived products. But based off the reviews, ordering from the site isn't always a safe bet. When it comes to CBD, you should look for a trustworthy brand with its processes on display, like Hemp Bombs®. If you're wondering, "Is CBD on Amazon safe?" or "Where to Buy CBD Online?", here are a few factors that may sway you to take your business elsewhere.
Can You Buy CBD Oil on Amazon?
Before questioning the safety of the CBD products found on Amazon, you might want to know if you can even buy CBD on the site. Technically, no.
But from a quick "CBD Oil amazon" Google search and the hundreds of search results, you wouldn't know that the platform actually prohibits CBD for sale.
According to Amazon's policies:
Listings for products containing cannabidiol (CBD) are prohibited, including but not limited to:
i. Full spectrum hemp oil
ii. Rich hemp oil
iii. Products that have been identified as containing CBD by LegitScript
Although the 2018 Farm Bill legalized Hemp-derived products, many companies still limit the advertising and presence of these products due to the lack of regulation from the FDA. Notice how you don't see too many CBD ads on sites like Facebook?
Straightaway, if a vendor is breaking these simple rules set by the site then they may not be the poster child for trustworthy CBD.
If it's not CBD, then what are they selling?
As mentioned earlier, even a search for CBD on Amazon's site will yield countless results. But if vendors can't sell CBD, then what are they selling? After further investigation of the listed products, you might notice that all products are labeled as "Hemp Oil," "Hemp Extract Oil" or some similar variation.
Unfortunately, many of these products contain no CBD at all. In fact, Hemp Oil is a term often used interchangeably with Hemp Seed Oil. Like the name suggests, Hemp Seed Oil results from cold-pressing Hemp seeds, which contain no CBD or THC – making it legal to sell on Amazon. While this highly nutritional supplement is packed with omega-3s and perfect for cooking and beauty products, the price tag does not reflect the contents in the bottle.
Four Things Lacking in Amazon CBD Oil
Typically, Amazon's CBD product information extends only as far as the product page, outlining a few benefits and specifications about what you're ordering. Even a Google search of the brand in question is unlikely to yield a main webpage as a resource. However, when buying from an independent site, you have several resources at your fingertips to ensure you're making informed decisions, including blogs and articles about sourcing, manufacturing and lab testing results that you may not find on an Amazon product page.
In fact, here are four details you probably won't find when searching for CBD Oil on Amazon.
In-House Manufacturing
It's only right that you know how and where your CBD was made, so companies implementing in-house manufacturing provide transparency about this process. At Hemp Bombs®, we take a hands-on approach when formulating and producing new products, and we know exactly what goes into each and every item. If we need to make a change to benefit your safety or to comply with new regulations, we can make it quickly and effectively in our own facility.
Accessible Lab Test Reports
One aspect that is lacking on many of the Amazon CBD Oil pages is updated, verified lab testing reports. One way to ensure that you're getting safe and legitimate CBD is through these independent lab tests that highlight all the cannabinoids found in your product. Such tests should also ensure products are free of pesticides, heavy metals, mycotoxins and other harmful compounds.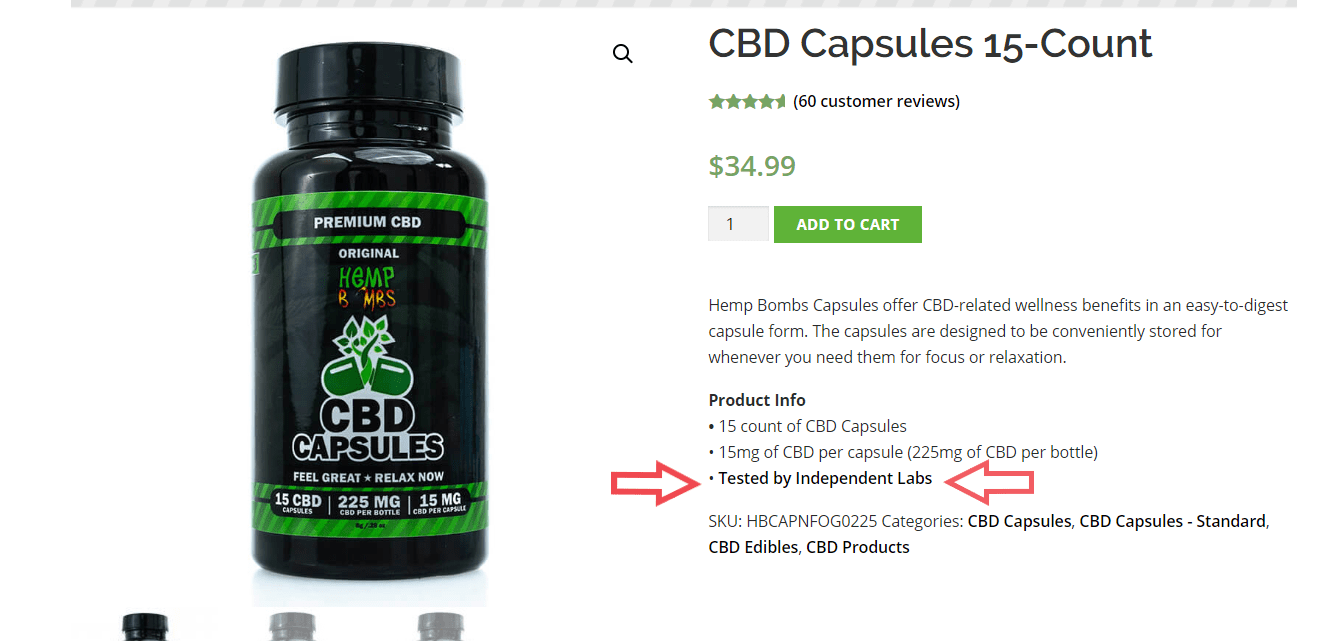 Although third-party lab testing is what sets trusted CBD brands apart from the "snake oil" crowds, a simple lab testing report is not enough when it comes to this highly unregulated compound. The most trusted companies partner with International Organization for Standardization (ISO)-certified labs for consistent results.
At Hemp Bombs®, our multistage lab testing process is extensive, including raw material testing, in-process checkpoints, finished good verification, and finally, third-party certification. Additionally, our lab test results are published on each product page as well as this designated area for your reference.
Quality Control and Compliance
Despite the lack of federal regulations within the CBD industry, there are certain standards and local guidelines in place that ensure the safety of consumers and the legality of CBD Oil. A few of these guidelines include fair and just marketing tactics and the implementation of standard operating procedures of related industries. Many Amazon products make unsupported claims that CBD may treat, cure or heal a number of ailments – all the while selling products that do not include CBD to begin with. Statements such as these have landed many companies in hot water with the FDA, as making false statements can discourage consumers from seeking appropriate medical advice.
Accurate Labeling
Perhaps the most unsettling aspect of many CBD Oils on Amazon is the discrepancy between what's on the label and the contents within the bottle. The chances that you would get 5000+ milligrams of CBD for the low price points shown on Amazon should be your first clue that the Hemp Extract found in the bottle is illegitimate or of low quality.
Due to the FDA's minimum labeling requirements, you should be able to look at the ingredients panel and discern whether there is CBD in the bottle. A quick look at most products will likely show you Hemp seed oil (sometimes cleverly disguised as Hemp oil), MCT oil, natural flavorings…but no CBD.
When it comes to CBD, you're better off doing your research and finding a reliable CBD company, rather than rolling the dice with buying CBD Oil on Amazon. While it may seem like you've found a deal on the beloved retai