Looking for an easy way to take CBD? Hemp Bombs has the answer. Our CBD Gummy Bears are one of the most in-demand products on the Hemp Bombs product line. Our hemp gummy line of products now include 3 great tasting varieties with Original, Sleep & High Potency CBD Gummies. Each delightful bear is packed with a wealth of overall wellness benefits. Some use our CBD Gummies for anxiety relief while others like them for their calming effects. Featuring CBD derived from premium Industrial Hemp, each chewy original gummy has 15mg of premium CBD to encourage a host of wellness benefits. For an extra boost, try our High Potency gummies with 30mg of CBD each.

Because of the way our bodies respond to Cannabis, CBD is often incredibly effective when it comes to relieving stress, improving your lifestyle, boosting relaxation and more.

Our high potency variety of CBD gummies are more concentrated than our Original CBD Gummy Bears while still following the same strict manufacturing and sourcing guidelines. These Hemp Gummies can help provide anxiety relief, a better night's sleep or just a simple way to relax.

Get a good night's sleep and experience the benefits of CBD with our CBD Sleep Gummies. Each chewy CBD gummy combines a concentrated serving of premium CBD to promote restful sleep and morning wakefulness.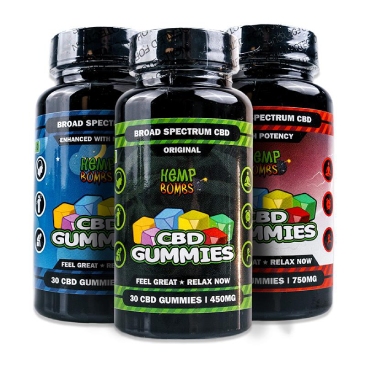 So what are CBD Gummies? CBD promotes maximum relaxation and can reduce feelings of stress, but it doesn't produce the psychoactive effects associated with getting "high." Instead, you'll be able to function as you usually do. Our products contain less than 0.3% THC and are perfect for adults who want a premium compound without mind-altering results. You can take CBD Gummy Bears like you would any other vitamin for its wellness benefits.
Some of the benefits of CBD Gummy Bears may include:
Complete relaxation
Stress relief
Enhanced recovery
More restful sleep
Improved lifestyle
Federally Legal
Industrial Hemp contains only trace amounts of THC, and it won't cause psychoactive effects even when smoked in its rawest form. We want our products to keep your mind at ease, which is why we use CBD that has undergone a special extraction process to ensure it contains less than 0.3% THC. You can consume and buy Hemp Bombs CBD all over the U.S. without any fear of federal consequences.
Take At Your Leisure
While all of our products are designed with convenience, CBD Gummy Bears stand out for their portability. Keep our products in your purse, backpack or on your office desk and you'll be able to chew a CBD Gummy whenever you please.
Enjoyable Taste
Every CBD Gummy packs a potent serving of CBD, but don't expect it to taste like medicine. Our gummies are delicious and fun to chew while also potentially benefiting your health, which means you can have your cake and eat it too.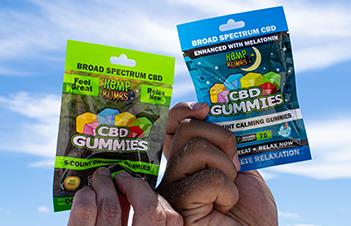 CBD Edibles for an Improved You
CBD edibles may be able to improve your well-being, and it's all thanks to a biological system called the Endocannabinoid System, or ECS. It regulates normal body functions and can affect pain levels, memory, appetite and mental clarity.
Hemp Bombs CBD Sourcing
CBD can be sourced from either Hemp or Marijuana, and at Hemp Bombs, we only use superior-grade Industrial Hemp to craft our CBD Gummies, CBD Oil, CBD E-Liquid (also known as CBD Vape Juice or CBD Vape Oil) and other premium CBD products. The main difference between Hemp and Marijuana is THC content – while Marijuana has a high level of THC, Industrial Hemp contains minimal THC. We use Hemp-derived CBD with less than 0.3% THC to allow you to experience the wonders of the Cannabis plant without having to worry about legality.  When you take advantage of Hemp Bombs CBD Gummies effects, you can rest assured knowing you're consuming a high-quality product. Click here for more information: What do CBD Gummies do?
The Hemp Bombs Promise
We know you have an overwhelming number of CBD Gummies for sale to choose from, and Hemp Bombs wants to make the choice easier. That's why we source each CBD Gummy from premium-grade, American-grown Industrial Hemp, and we only partner with farmers who have shown a commitment to sustainability. Other companies cut corners to lower their bottom line, but our team prioritizes your wellness above anything else.
Additionally, we have an unbiased third-party lab test our products for impurities and share the results publicly. We don't have anything to hide, which is why we're so open about our production and sourcing process. You deserve to know what kind of CBD you're getting, and we have your needs in mind during every step of our manufacturing and packaging process.
CBD Gummy Bears FAQ
What are CBD gummy bears?
Incredible, mouthwatering, delicious flavor combines with a potent serving of meticulously formulated, lab-tested, premium CBD to create an enjoyable, easy-to-take CBD product unlike anything else on the market today.
What are CBD oil gummy bears benefits?
For a complete breakdown on the numerous relaxing, stress-reducing, anxiety-alleviating and wellness benefits of CBD, click here. CBD Gummies specifically have the added benefit of delivering a premeasured serving of our premium CBD in an easy-to-take, tasty gummy.
Are CBD gummy bears legal?
Yes! All Hemp Bombs CBD products are federally legal for adults 18 years or older to enjoy. Hemp Bombs CBD contains less than 0.3% THC, is sourced from Industrial Hemp grown on American farms and is thoroughly lab-tested to ensure its quality.
How many gummy bears with CBD should I eat?
Because everything from a person's age to their body composition can impact how much CBD it takes to affect them, there's no definitive answer to how many you should take. We suggest starting with one, seeing how you feel after about an hour, and then trying another if you feel like you need it. Over time, you'll be able to better determine how many you should take at one time to enjoy the benefits of CBD.
How long does it take for CBD hemp gummy bears to work?
Everyone reacts to CBD differently, and there's no way to know how long it will take to feel the effects. Typically, one should feel the benefits of CBD within an hour or so of taking it.
What kind of sugar is put on CBD gummy bears?
Like all the premium ingredients formulated into every Hemp Bombs product, we only use high-quality sugar to lightly coat our delicious gummies.
Where do I buy CBD gummy bears?
Hemp Bombs products are available for purchase in more than 25,000 stores throughout the United States. Check your local stores for availability. However, the easiest way to get all our premium CBD products is online.