Out of time (or money) to find the perfect gift for your friends and family? Use these DIY gift ideas for a friend or treat yourself to homemade beauty products this winter. Hemp Bombs DIY CBD Gifts for the holidays can be made with everyday items around your home and provide a personal touch that your loved ones will appreciate. Try one of these ideas, or give them all in a CBD Gift Basket!
MINT SUGAR SCRUB WITH CBD
---
Sugar scrubs are simple, easy to make and customizable for everyone on your list. This exfoliator removes dead cells and revitalizes dry skin during the winter months. Use as little as three ingredients or get fancy with additional elements.
• 1 ½ cups granulated sugar – this can be white or brown sugar, but smaller granules work best
• ½ cup coconut oil – almond and olive oil will also work great for this recipe
• 1 teaspoon peppermint extract – substitute with vanilla, lavender or ten drops of your favorite essential oil
• Hemp Bombs Peppermint CBD Oil, as desired
• Food coloring (optional)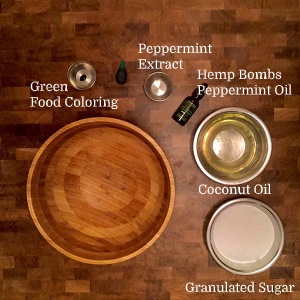 While our recipe calls for 1 ½ cups of granulated sugar, you can use less or more depending on your intentions. For example, less sugar (about a cup) will produce a less abrasive scrub that can be used on the face, while more sugar may be more ideal for a full-body scrub.
Get creative by making different colors of scrub for decoration. Simply separate the scrub into several bowls before adding the food coloring. For example, keep one container of scrub white and make another red. Pack your jar in alternating layers to create a candy cane effect.
LAVENDER-MINT LIP BALM WITH CBD
---
With the bitter chill of winter, lip balm is an absolute must-have. Craft the perfect, moisturizing lip balm for all your friends with this easy recipe. The refreshing tingle of mint paired with the soothing properties of lavender essential oil are sure to make this DIY gift anything but ordinary.
Customize this lip balm by adding your favorite lipstick shade. Unlike most drying lip colors, tinted lip balm is the perfect addition to an everyday makeup look, while providing nourishment that lasts.
• 1 tablespoon jojoba oil
• 1 tablespoon beeswax pearls
• 2 tablespoons shea butter
• Lavender Essential Oil
• Hemp Bombs Peppermint CBD Oil
• 1 teaspoon colored lipstick (optional)
• New lip balm containers
CBD TURMERIC & HONEY FACE MASK
---
Perhaps the best gift of all is quality time spent with friends. Bundle these DIY CBD gifts and make your own mini-spa day with the girls – with mimosas and movies to boot. However, no spa day is complete without a refreshing face mask, and this brightening mask is sure to leave your friends glowing.
• 1 teaspoon organic unflavored yogurt
• 1 teaspoon raw honey
• 1 tablespoon organic turmeric powder
• Hemp Bombs Natural Hemp CBD Oil, as desired
When it comes to your face, organic is best. Raw, organic honey is not only filled with vitamins and minerals, but it also contains antimicrobial and anti-inflammatory properties to soothe red, irritated skin.
In the same way, turmeric has antibacterial and anti-inflammatory properties to further cleanse clogged pores and brighten the face.
Additionally, the lactic acid in yogurt gently exfoliates your skin to remove dead cells and tighten pores. In short, this mask provides countless benefits with just four ingredients.
Start Creating with CBD
---
The season of giving is in full swing, but don't feel obligated to run out and buy everything. A handmade present can be more valuable than anything you buy from the store – especially when it includes CBD.
When used topically, CBD may promote comfort and enhance the average skincare routine. You can personalize these recipes by mixing and matching different essential oils and your favorite moisturizing oil bases. Order your CBD Oil today, or one of our other fan-favorite CBD products like our premium CBD Cannabidiol Gummies, and start gifting.