Premium CBD Vape Tank Cartridges


CBD Vape Products and e-liquids are no longer permitted to buy or sell online in the state of Michigan and Rhode Island.
Hemp Bombs is expanding accessibility within the vaping market with our CBD Vape Tank Cartridges. Pre-loaded with 1ML of our bold e-liquid flavors and enriched with concentrated CBD, these premium cartridges feature durable glass, 510 metal threads with silicone thread protectors and 4x .9mm holes. Accessible almost anywhere you go, our CBD Vape Cartridges are the go-to option for when you need CBD's benefits the most.
One of the most beneficial features of Hemp Bombs CBD Vape Products is their fast-acting effects. Our CBD Vape Pen immediately lets you experience the health benefits of CBD. Inhaled through your lungs, the CBD in our Vape Tanks reaches your bloodstream much faster than CBD edibles. If you need a quick boost, look no further.
With Hemp Bombs CBD Vape Cartridges, it's as simple as twist and vape. CBD E-Liquid Tanks provide you quick access to CBD's therapeutic benefits just through a few puffs. Our CBD Cartridges come pre-loaded, so there is no hassle trying to refill your vape. Take it wherever you want – our CBD Vape Cartridges are accessible and easy to use almost anywhere.
Our CBD Vape Cartridges give you the power to control precisely how much CBD you want to intake. Using your vaporizer, you can inhale however much CBD you need to attain calm, relaxation and other great health and wellness benefits. Whether you are new to vaping or an experienced vaper, Hemp Bombs has you covered with three different potency levels ranging from 125mg to 1000mg.
Just like your favorite CBD E-Liquids, Hemp Bombs CBD Vape Cartridges come in an assortment of delectable flavors. Choose from a wide variety of vape flavors ranging from Arctic Spearmint Blast to Whipped Marshmallow Dream. We outmatch every other CBD company with our diverse vape flavor menu and continue to work on releasing new flavors that suit your tastes.
Please note: the liquid in vape tanks can vary from clear to amber brown.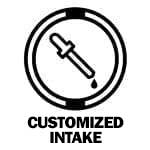 CBD Vape Tank FAQ
Hemp Bombs CBD Vape Oil, also known as CBD E-Liquid, is a combination of premium CBD, vegetable glycerin and propylene glycol meant for vaping devices. Many CBD Vape Juices feature delicious flavors to make your experience more enjoyable.
Our CBD Vape Tanks should be used with a compatible 510-thread vape battery. Hemp Bombs offers a vape tank battery kit separately for your convenience. Just screw the vape tank on to the battery, press the button and start puffing.
Your intake will vary according to the e-liquid potency, the number of puffs taken and the quality of device you are using. CBD affects everyone differently, so you should gauge how you feel after a few puffs. If you don't feel the effects, you may consider switching to a higher concentration of vape oil.
Vaping CBD is considered one of the fastest ways to experience the effects of this natural compound because it enters directly into the bloodstream through the lungs. Swift results can be helpful during stressful moments.
Like all CBD products, CBD Vape Oil may help you feel more relaxed and comfortable which makes it easier to fall asleep. Some customers report feeling reduced stress and anxiety after using CBD Vape Oil. Even the act of vaping in itself is soothing for many people.
Besides our CBD Vape Cartridges' ease of use, at Hemp Bombs we pride ourselves on being a valuable and reliable CBD brand. From the time we source our premium-grade Industrial Hemp to the time your order reaches your door, we maintain the highest quality control over all our processes. We are very selective in the Industrial Hemp we use, and that is why we choose highly qualified American farmers who only use sustainable methods. Hemp Bombs Hemp is grown in soil free of any harmful chemicals, pesticides, or heavy metals. We like to ensure you that you are receiving a product that is beneficial to your health.
All of our products are third-party lab tested to authorize their authenticity and quality. Hemp Bombs CBD Vape Cartridges will not get you "high"; instead it will promote a relaxing and calming effect. When crafting our CBD Vape Cartridges, your health and wellness is our primary concern. Through all of our detailed processes, we can provide you with a premium CBD Vape product that you can use daily as a benefit to your well-being. Check out our guide to CBD Vape Tank Cartridges for even more information about our industry-leading products.
Yes, Hemp Bombs CBD Vape Tanks are legal on the federal level as they are specifically formulated to included less than 0.3% THC. However, CBD Vape Products and E-Liquids are no longer permitted to be bought or sold online in Michigan or Rhode Island.