Reports about the potential benefits of CBD Oil Vape Juice have frequently made the news lately. Consumers have credited this potent, premium oil with relief from anxiety, help getting a better night of sleep, the promotion of calm and relaxation and many other health and wellness benefits. More recently, researchers have conducted scientific studies to support these claims. Anybody who wants to optimize their well-being should take a moment to learn more about the benefits of high-quality CBD Oil for vaping.
Both CBD and THC are examples of the cannabinoids that are found in Cannabis. THC can produce a "high" and is associated with Marijuana; CBD Oil is not psychoactive, so it doesn't produce the euphoria that THC does. Hemp Bombs produces CBD Oil Vape Juice by extracting CBD from premium Industrial Hemp. This makes it the perfect choice for those who want to enjoy relief without an altered state of mind.
Health Benefits of Hemp Bombs CBD Oil Vape Juice
Cannabinoids refer to certain chemical components that can activate receptors with the central nervous system and immune system. In turn, this activation signals the body to produce natural substances with pharmacologic effects. Very often, cannabinoids appear to work as well as prescriptions but without serious side effects. Doctors have studied the beneficial effects with laboratory, animal, and human testing. Let's discuss some of the most useful and common examples of the ways that CBD Oil Vape Juice might relieve medical issues.

Is CBD Oil Vape Juice Legal in the United States?
These days, most people have learned that they need to take control over their own health. At the same time, a few folks have expressed concerns over the legality of having CBD Oil shipped to their address. A lot of states have made Marijuana legal for medicinal or recreational use. Some states have not, and it's still a sticky issue with the federal government. Still, CBD Oil Vape Juice is not at all the same thing as Marijuana so the same laws won't apply.
The psychoactive substance that gets people high in Marijuana is called THC. Third-party lab tests certify that Hemp Bombs CBD Oil Vape Juice contain less than 0.3 percent THC and high-quality CBD Oil. It is federally legal in the United States.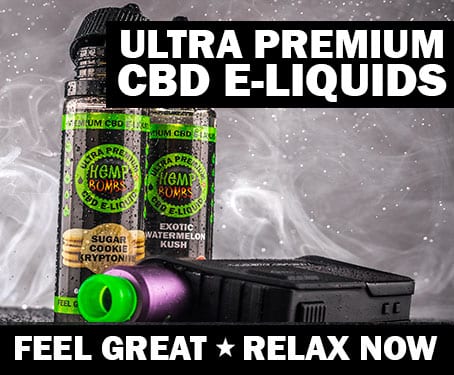 Should I Choose CBD Oil Vape Juice as a Healthy Remedy?
Dr. Josh Kaplan is a Cannabis expert and neuroscientist. According to Dr. Kaplan, some ways to consume CBD Oil include taking it sublingually or ingesting it. He says that the best method to ingest this remedy may depend upon preferences and goals. That's because the way people consume it can impact its speed and even the serving that they get. Other methods of ingestion include applying it topically or inhaling the supplement.
Doctors speculate that CBD gets absorbed at a greater amount through inhaling than by ingesting CBD or using it topically. Vaping sends the active ingredients in CBD Oil Vape Juice right to the bloodstream. This means that users can enjoy almost instant results. Instead of having to pass through the digestive system or slowly get absorbed in other ways, it passes directly into the lungs and then the bloodstream.
The only alternative for inhaling to vaping would be smoking. People who are managing health issues or want to maintain their health would usually rather not smoke. This makes vaping CBD Oil Vape Juice a clear winner for people who want to enjoy a fast-acting, effective remedy. Since vaping does not produce nicotine smoke, it also doesn't produce second-hand smoke risks or unpleasant odors when used indoors or in crowded areas.
Why Buy CBD Oil Vape Juice From Hemp Bombs
Thousands of customers enjoy the high-level of customer service, affordable pricing and shipping deals that Hemp Bombs offers for sending their products anywhere in the United States. Most of all, people should consider the way that their retailer sources and controls the quality of their products:
The process begins by sourcing high-quality help from eco-conscious, sustainable farms.
After procuring hemp, they use a precise extraction process to produce premium CBD Oil.
Third-party labs certify this product as containing less than 0.3% THC.
CBD Oil Vape Juice doesn't get people high because it doesn't contain the psychoactive ingredients associated with Marijuana. At the same time, it does contain CBD, which has been associated with better sleep, anxiety relief, calm and relaxation and many other health benefits. Hemp Bombs also publishes the results of our third-party lab tests for complete transparency.
How to Buy Hemp Bombs CBD Oil Vape Juice
The best way to find out if CBD Oil works is to try it. Hemp Bombs offers CBD Oil Vape Juice in several different forms at very competitive prices. For instance, we sell both convenient tank cartridges and bottled Vape Juice. Customers can choose an unflavored additive or between a dozen tasty flavors. Enjoy the benefits of CBD Oil Vape Juice by ordering online right away. Orders are shipped out quickly, so customers can enjoy relief fast. We ship orders all over the United States and internationally and even throw in free shipping for orders over $75. Shop CBD Oil Vape Juice now.