CBD VAPE OILS IN A VARIETY OF GREAT TASTING FLAVORS & HIGHER POTENCY CONCENTRATIONS
CBD Vape Oil and CBD E-Liquid Additives from Hemp Bombs both contain a potent concentration of premium CBD. Our CBD Vape Oil is available in delicious flavors and produces big clouds for a relaxing experience. Personalize your vape experience with more than 15 different flavors or unflavored additives. Derived from premium-grade Industrial Hemp, our CBD vape products are highly potent for maximum health benefits. Hemp Bombs Vape Juice contains a healthy serving of CBD in every puff without nicotine or other harmful chemicals.
What is CBD Vape Oil?
CBD Vape Oil captures the benefits of CBD extract in a premium e-liquid. CBD, or Cannabidiol, is a prevalent compound in Cannabis plants. It can be derived from either Marijuana or Hemp. At Hemp Bombs, we extract our CBD from premium-grade Industrial Hemp grown with sustainable methods in the United States. CBD is known for its beneficial properties that may improve overall well-being. Unlike its sister chemical, THC, CBD does not get you high and has no psychoactive properties.
Instead, CBD may help you relax into a state of calm and tranquility while boosting your overall health. Our CBD Vape Oil is highly safe, federally legal and not linked with any harsh side effects or overdose cases.
We offer many options for our CBD Vape Oil, so you can customize your CBD regimen. Whether you are new to vaping or already have an established vape routine, we have products for all experience levels.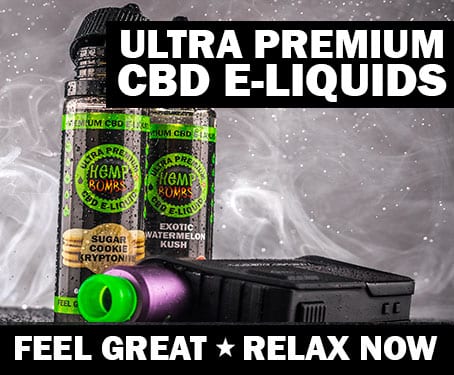 Learn More About CBD Vape Oil
Vaping vs. Smoking
About 14 percent of adults identified as smokers, according to the American Heart Association. When you smoke, you inhale thousands of chemicals and you risk damaging tissues in your mouth, lungs and esophagus. With smoking, you also put yourself at higher risk for a variety of health problems like emphysema and cancer. Hemp Bombs' CBD Vape Oil doesn't contain any nicotine and is non-addictive. Although you will likely enjoy the flavor, you're not going to experience "cravings" for our products. Vaping has been shown to be effective as a cigarette smoking cessation tool.
Vape Oil For Non-Smokers
If you're new to vaping, welcome – you've joined a vibrant and welcoming community. While some vapers are former smokers, others simply enjoy the sensation that vaping provides. Vaping is one of the fastest ways to absorb CBD into your body, and it's a great option for anyone who wants to experience CBD in a fun new way.
Vaping CBD E-Juice For The First Time
Maybe you've been vaping for years and can't decide whether CBD Vape Oil is worth a try. With more than 15 pleasant flavors to choose from, Hemp Bombs combines the flavor you love with benefits that aren't found in traditional vape juices. Our E-Liquid isn't just enjoyable to vape – it's designed to promote wellness and make you feel relaxed.
Hemp Bombs partners with domestic farmers who have shown a commitment to sustainability for all our products. We prioritize excellent quality and top-of-the-line customer service – your needs are important to us, which is why we utilize third-party lab tests. Our CBD e-juice is just one product that has made us a leader in the CBD industry.