Premium CBD E-Liquid in Many Concentrations & Flavors

Hemp Bombs continues to be a trailblazer in the CBD industry with our premium CBD E-Liquid. Our Vape Oil is made with broad spectrum CBD, and we offer multiple flavors and concentrations, so you can personalize your vape experience. We follow the best practices in Hemp sourcing and extraction to produce a superior E-Liquid that is premium, potent and packed with CBD's benefits. Hemp Bombs CBD E-Juices are perfectly blended for maximum flavor, cloud production and enjoyment. You may order a la carte or select our Mix & Match E-Liquid packages to try multiple flavors at once. Our bundles give you the option to stock up on a variety of E-Liquids or double down on your favorites – all while saving money. Feel great and relax now with Hemp Bombs premium CBD Vape Oils.
CBD Vape Products and e-liquids are no longer permitted to buy or sell online in the state of Michigan and Rhode Island.
Our Great-Tasting CBD E-Liquids
CBD E-Liquid Mix & Match Packs
CBD E-Liquid FAQ
Hemp Bombs CBD E-Liquid is a mixture of premium CBD, vegetable glycerin (VG) and propylene glycol (PG). Our 70/30 VG/PG split produces maximum clouds for your enjoyment.
Our CBD E-Liquids are meant to be used with a refillable vape device or module. Open the tank on your vape device, add your desired amount of one of our vape juices, securely close the tank, press the button and inhale.
The wattage you use will largely depend on your vape device as well as your experience level. Beginners can reasonably start at about 10 watts (or less), while more advanced vapers may use 50 watts and above. Try out different watts to find what works for you.
Yes, Hemp Bombs CBD E-liquid is legal at the federal level. This is because our products are specifically made to contain less than 0.3% THC. However, it is no longer permitted to buy or sell CBD Vape Products and E-Liquids online in the states of Michigan and Rhode Island.
Great Tasting CBD E-Liquid Flavors
Hemp Bombs is proud to offer a large variety of CBD Vape Oil flavors to enhance your vaping experience. Whether you're looking for a fruity flavor like Exotic Watermelon Kush or something refreshing and minty like Arctic Spearmint Blast, you'll have something to choose from. We're constantly adding new flavors to our line, and our customers love to mix and match our offerings to create their own delicious flavors. We do what we can to cater to your preferences.
Highest-Quality CBD Vape Additives
Some CBD E-Juices and vape oils contain nicotine and other chemical additives, but Hemp Bombs CBD Oil Vape Juice contains no nicotine or addictive compounds. While you'll enjoy Hemp Bombs E-Liquid and look forward to vaping it, you won't feel cravings or withdrawal. Instead, you may feel more relaxed after inhaling CBD E-Juice – it has the potential to promote positive health benefits like regulated sleep, stress relief, and an elevated sense of calm.
CBD with the Perfect Balance of VG/PG
Vegetable Glycerine and Propylene Glycol are two essential components of vape oil, and we've formulated our VG/PG split for maximum enjoyment and increased cloud production. Additionally, all our VG and PG is food-grade – and you don't have to worry about our CBD E-Liquid being associated with lung problems or any other complications that result from some vape products.
Hemp Benefits without the "High"
Hemp and Marijuana are both members of the Cannabis family, but the plants differ in composition – which is why Hemp Bombs products don't get you "high." While Marijuana has high levels of Tetrahydrocannabinol, or THC, Hemp contains only trace amounts of the compound. Our products undergo an extraction process to ensure they contain less than 0.3 percent THC – so you may feel relaxed or calm after taking our products, but you won't feel psychoactive effects.
Highest Quality Ingredients Make Up Our Vape Oil
We have complete control of our manufacturing process, which means you can always rest assured that you're getting a premium, sustainable product. Hemp Bombs will never sacrifice quality and cut corners.  Our premium CBD E-Liquid is sourced from superior-grade Industrial Hemp. Our manufacturing happens in-house, and our experienced production team oversees the process. We guarantee that every product meets our rigorous quality control standards.
Why Incorporate CBD into E-Liquids?
CBD, or Cannabidiol, is a compound extracted from both Hemp and Marijuana. As you know, Hemp Bombs only uses CBD extracted from premium Industrial Hemp. When looking at why CBD E-Liquid is so effective, it's important to know about the Endocannabinoid System, or ECS, an essential system responsible for several functions that help your body maintain its healthiness. When CBD enters your system, it interacts with the cell receptors in the ECS. Because the ECS influences memory, stress levels, appetite, pain and more, CBD has the potential to provide widespread relief.
E-Liquid Reviews
You don't have to take our word for our products – Vaping360 and Vapor Vanity have both rated Hemp Bombs E-Liquid one of the top CBD vape juice options for sale on the market. Additionally, you can look at product reviews under any of our products to read thoughts from customers who have tried our CBD E-Liquid.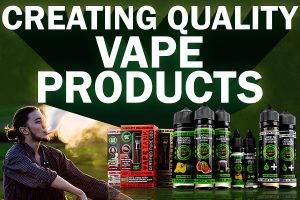 Check any news site and you'll likely see coverage about vaping – the dangers of black-market products, vape-related health complications, companies caught marketing to underage crowds and more. At Hemp …
Read more